Shopping Cart
Your Cart is Empty
There was an error with PayPal
Click here to try again
Thank you for your business!
You should be receiving an order confirmation from Paypal shortly.
Exit Shopping Cart
| | |
| --- | --- |
| Posted on April 8, 2013 at 10:40 AM | |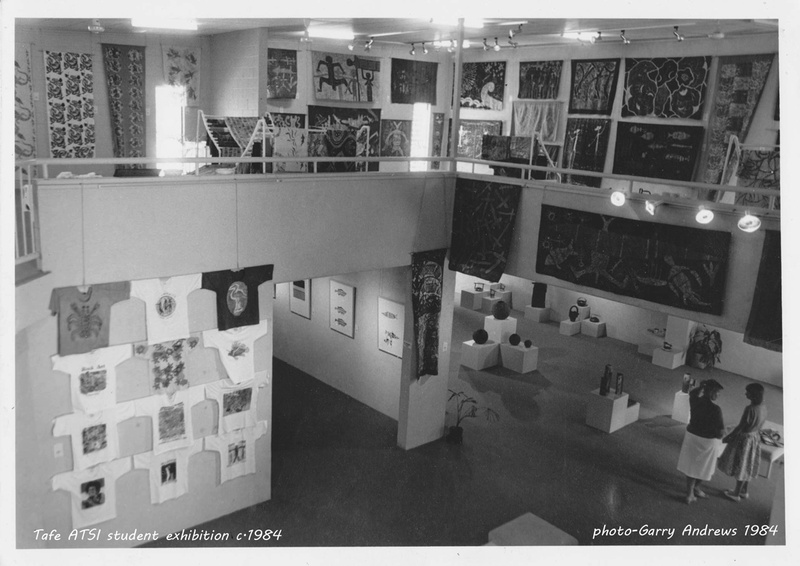 In 1983 I was working as a freelance graphic designer for The T'Shirt Factory in Cairns, when I was approached by Tom Vudrag, a batik artist, to come and teach screenprinting for the Cairns Tafe college to indigenous students at a soon to commence '12 week pilot-program".
So in 1983-5, I was teaching at the evolving Cairns Tafe ATSI Art program. I had been involved from the initial 12 week pilot stage which we delivered in a floor-less demountable at the Tafe Campus in late1983, and subsequently at "'The Art Centre" formerly Hanushes Cordial factory" which we repurposed as an indigenous arts centre, optimistically delivering a fast tracked program. Under the guidance of James Last and Norm Jagger, we consultatively prepared a new curriculum developed in response to the original 12 week program, eventually gaining accreditation for what was then the Certificate in Aboriginal and Torres Strait Islander Art and Craft, Course.
In the early days I worked closely with Tom, Anna Eglitis and the late Thancoupie to get this course going. There was considerable support from the indigenous community, and Cairns area businesses such as the Kewarra Beach Resort who showcased students artworks. It was truly an innovative initiative. I had the honour of working with many talented artists, including Vernon Ah Kee, Jenuarrie Warrie, Ursula Morgan, Elaine Burroughs to name but a few who participated in the early days of the course.
From the initial program-(which strangely resembled a 12 week program I had earlier supplied to Dept. of Communities co-ordinator, Caz Batson), which we delivered in the demountable at the Tafe Campus in 1983, and subsequently at "'The Art Centre" formerly Hanushes Cordial factory 1984-85.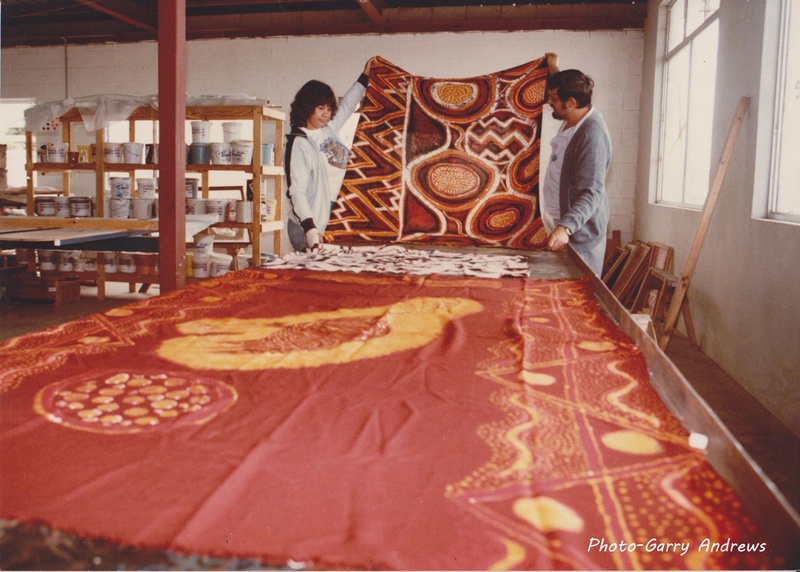 The B+W image at top, is of the students exhibition 1984 held at the Alfred St. Art Centre, Manunda. The other shows batik teacher Tom Vudrag with a student from W.A. looking at her wonderful batik work in the screen-printing workshop at The Art Centre, Cairns. I recall working back at night with students printing large quantities of T-Shirts celebrating the Laura Dance Festival around this time-a hands on business opportunity for the students.

The importance of this influential development in the Queensland and Australian Arts industry has been grossly overlooked, despite a fine article by Robert Reid, in Craft Australia magazine in c. 1984/5 : Aboriginal Batik – Screenprinting. The Art Centre in Cairns.

"I feel that we're tapping the spiritual roots of this country...I hope that this will be a new direction, a neucleus for Aboriginal artists where we can provide a useful centre of information and knowledge that will enhance cultural awareness." 1. Tom Vudrag.

I certainly congratulate all those involved with the recent Cairns Indigenous Art Fair especially the artists -and remind those who have written articles for wider dissemination, that there is indeed a contemporary history of the Indigenous Arts movement. Recent articles which I have read about Indigenous Arts in Cairns and North Queensland make no reference to the innovation and early development of The Art Centre, and the subsequent flourishing of the Indigenous Arts in north Queensland.

My own contributions in the development of Art in north Queensland has been, and continues to be ommitted from any written histories.

I for one believe that the true story of the emergence of a vital art scene in Cairns and North Queensland should be brought to light.

Please share this article.

Garry Andrews

Coolangatta, April 2013

Footnote: 1. Tom Vudrag, from Robert Reid's article "Batik-Screenprinting, The Art Centre in Cairns", p.p. 84-87, Craft Australia c.1985

Postscript: If you were involved in this important project and would like to contribute here, please feel free to comment on this blog.

Categories: None

0

/