Shopping Cart
Your Cart is Empty
There was an error with PayPal
Click here to try again
Thank you for your business!
You should be receiving an order confirmation from Paypal shortly.
Exit Shopping Cart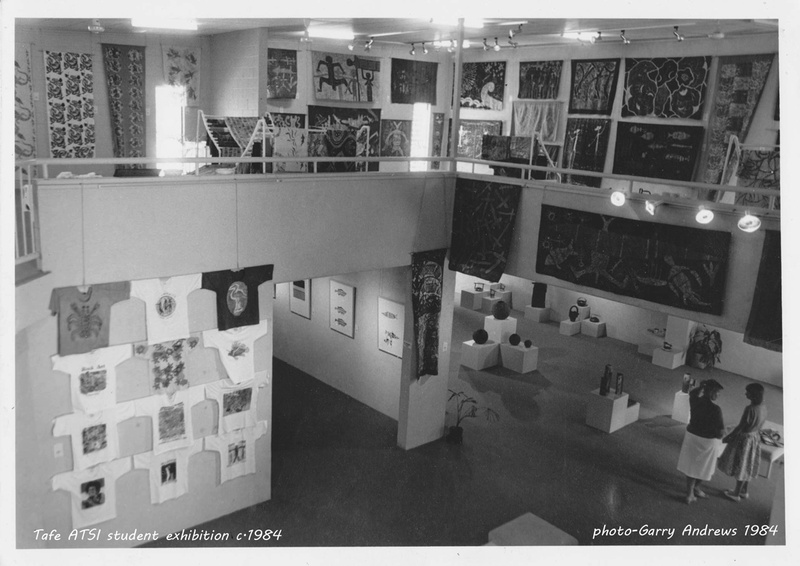 In 1983 I was working as a freelance graphic designer for The T'Shirt Factory in Cairns, when I was approached by Tom Vudrag, a batik artist, to come and teach screenprinting for the Cairns Tafe college to indigenous students at a soon to commence '12 week pilot-program".
So in 1983-5, I was teaching at the evolving Cairns Tafe ATSI Art program. I had been involved from the initial 12 week pilot stage which we delivered in a floor-less demountable at the Tafe Campus in late1983, and subsequently at "'The Art Centre" formerly Hanushes Cordial factory" which we repurposed as an indigenous arts centre, optimistically delivering a fast tracked program. Under the guidance of James Last and Norm Jagger, we consultatively prepared a new curriculum developed in response to the original 12 week program, eventually gaining accreditation for what was then the Certificate in Aboriginal and Torres Strait Islander Art and Craft, Course.
In the early days I worked closely with Tom, Anna Eglitis and the late Thancoupie to get this course going. There was considerable support from the indigenous community, and Cairns area businesses such as the Kewarra Beach Resort who showcased students artworks. It was truly an innovative initiative. I had the honour of working with many talented artists, including Vernon Ah Kee, Jenuarrie Warrie, Ursula Morgan, Elaine Burroughs to name but a few who participated in the early days of the course.
From the initial program-(which strangely resembled a 12 week program I had earlier supplied to Dept. of Communities co-ordinator, Caz Batson), which we delivered in the demountable at the Tafe Campus in 1983, and subsequently at "'The Art Centre" formerly Hanushes Cordial factory 1984-85.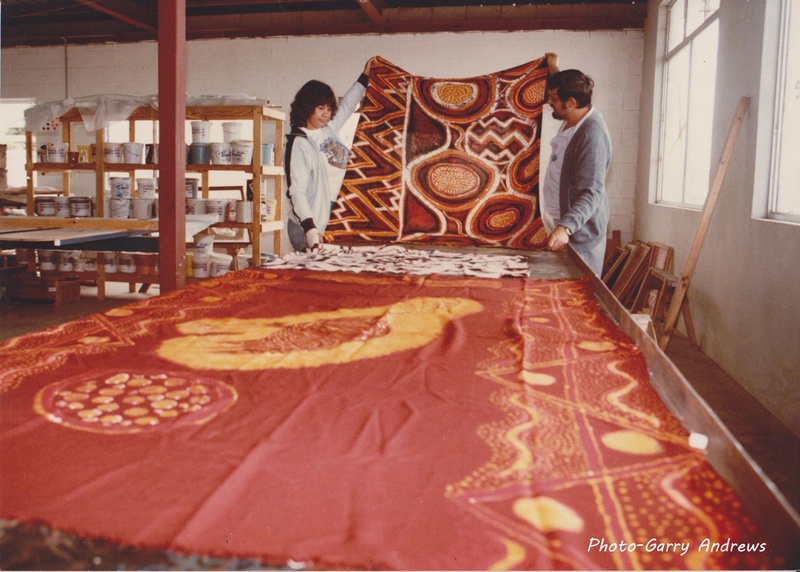 The B+W image at top, is of the students exhibition 1984 held at the Alfred St. Art Centre, Manunda. The other shows batik teacher Tom Vudrag with a student from W.A. looking at her wonderful batik work in the screen-printing workshop at The Art Centre, Cairns. I recall working back at night with students printing large quantities of T-Shirts celebrating the Laura Dance Festival around this time-a hands on business opportunity for the students.

The importance of this influential development in the Queensland and Australian Arts industry has been grossly overlooked, despite a fine article by Robert Reid, in Craft Australia magazine in c. 1984/5 : Aboriginal Batik – Screenprinting. The Art Centre in Cairns.

"I feel that we're tapping the spiritual roots of this country...I hope that this will be a new direction, a neucleus for Aboriginal artists where we can provide a useful centre of information and knowledge that will enhance cultural awareness." 1. Tom Vudrag.

I certainly congratulate all those involved with the recent Cairns Indigenous Art Fair especially the artists -and remind those who have written articles for wider dissemination, that there is indeed a contemporary history of the Indigenous Arts movement. Recent articles which I have read about Indigenous Arts in Cairns and North Queensland make no reference to the innovation and early development of The Art Centre, and the subsequent flourishing of the Indigenous Arts in north Queensland.

My own contributions in the development of Art in north Queensland has been, and continues to be ommitted from any written histories.

I for one believe that the true story of the emergence of a vital art scene in Cairns and North Queensland should be brought to light.

Please share this article.

Garry Andrews

Coolangatta, April 2013

Footnote: 1. Tom Vudrag, from Robert Reid's article "Batik-Screenprinting, The Art Centre in Cairns", p.p. 84-87, Craft Australia c.1985

Postscript: If you were involved in this important project and would like to contribute here, please feel free to comment on this blog.
Kickarts. The beginning.
On c.15March1992 I authored and placed a notice in the Cairns Post, calling for:
"PERSONS interested in supporting the formation of a locally based contemporary artists association which would; 1) Operate as an advocacy mechanism for the collective benefit of contemporary artists working in the Cairns and surrounding regions; 2) Focus on the creation of an innovative artist-run-initiative; 3) With a particular view to the establishment of a professionally operated printmaking and multi-media workshop. Please contact either Mr.Donald Coventry, Ph (070)316865 or Mr. Garry Andrews, artist, Ph (070) 545800."
As a result of the subsequent meeting which was attended by thirteen interested supporters of the idea, regular meetings were held in Cairns and the groundswell which was soon to become Kickarts had started.

At the next meeting I was elected Chairman and other office bearers were elected including Ingrid Hoffman as Secretary. I moved that the new organisation was to be called Kickarts, and this was accepted unanimously by those present, who included Donald Coventry, Director of the Cairns Regional Gallery who put his support behind the new organisation. Whilst I wanted to start Kickarts with setting up of a printmaking facility, this idea was put aside, as I deferred to the wishes of the collective to hold an inaugural art exhibition. This idea took hold of the increasing number of members and ultimately manifested in the satirically entitled exhibition "The Fish John West Regrets" featuring contemporary work by eighteen regional artists, which was held at the then Gallery of Fine Art Cairns and district, from 6-27 August 1993. Funding was sought for the exhibition through Arts Queensland R.A.D.F. which enabled the appointment of a curator, Chris Downie, who worked with artists of the north, curating the exhibition which was a resounding success. A catalogue was produced with support of R.A.D.F and the Cairns Regional Gallery. Downie's essay concluded with the comment "Kick Arts is an important development in the region and I am sure there will be important consequences that follow from this beginning." The exhibition was coordinated by Annette Kadarchie, enthusiastically supported by Kickarts members, who even generated a concurrent "satellite" exhibition "Other Schools of Thought" with thirty three artists participating. TFJWR went by the tagline: "An exhibition of experimental work challenging the notions of what art is". It certainly did that, generating much public debate as the flood of letters which followed the launch of the exhibition, to the editor of the Cairns post confirm. My involvement with Kickarts in the capacity of (foundation) chairman included the overseeing of the process of incorporation as a structured business entity.

Background

I had achieved a successful career as an artist/teacher in Cairns: as between 1983-85 I had, with Cairns Tafe along with Thomas Vudrag, Anna Eglitis, Thanakupi and James Last, been directly involved in the setting up-achieving accredited academic certification, and the operation of the Aboriginal and Torres Strait Islander art course. This manifested in "The Art Centre" located at the old Hanushes cordial factory in Cairns. At that time I was also active on the board of directors of Cairns Artists United's Alfred St. Art Centre at Manunda .

After 1986 I had spent several years working in Sydney as a muralist and community artist with Public Art Squad; had painted the ABC Greentrain in Brisbane, and had returned to Cairns to teach again at the Tafe College ATSI Art program. When the Labor Goss government came to power in Queensland, they brought in Arts Queensland and an intention to support the arts in regional Queensland. That, combined with the new Cairns Regional Gallery had created a favourable environment for the consolidation of local artists into a pro-active organisation to benefit from the new developments. My vision for Kickarts was for a broad based artists collective/ artist- run- inititiative, which would realise all three points articulated in the Courier Mail notice of March 1992.

Kickarts was successful very quickly, and has continued to grow with the support of many artists and artsworkers to become a high profile successful regional Arts organisation,strongly supported by Arts Queensland, now known as Kickarts Contemporary Arts Limited. In 2004 moving into the Centre of Contemporary Arts building with Just Us Theatre Ensemble.

Over the last three decades, many artists have contributed to the ongoing development of the arts industry in Cairns and north Queensland. These include John Kibby (CAU), Ian Smith, Anna Eglitis, Vernon Ah Kee, Vaughan Rees, Nick Mills, Robert Munday (TAG) , Jude Marsland, Greg Adams, Sue Ryan to name a few who have been important contributors to the development of cultural life in Cairns and north Queensland.

Those who attended my announced meeting held at Graft'n'arts of the 27 March 1992 were myself, Kerry Eaton, Ingrid Hoffman, Joy Stewart, Julie Paulsen, Marina Muecke, Maree Liddell, Sabina Carney, Margot Grant, John Emerson, Jack Grant, Gail Brookes, Jude O'Connell and Carrie Bies.

As Kickarts celebrates 20 years of supporting visual arts in North Queensland during 2012,it is important that Kickarts acknowledges the key points that have been outlined here, as currently their webpage "Our history" reduces the history of Kickarts prior to 2004 to around twenty five words, which fall short of a fair description of KickArts history. In terms of the beginnings of Kickarts, this could be seen by individuals as misleading.

Kickarts was the collective of members which I brought together, to work together and "Focus on the creation of an innovative artist-run-initiative". Sounding familiar? I am rightfully the Founder of Kickarts, and I congratulate all those who have worked hard to promote the visual arts in the north, and I wish them every success for the future.

Garry Andrews

Artist

Foundation Chairman and life Member of Kickarts.

5 October 2012

Postscript update March, 2016: Thanks to Ingrid Hoffman for ammending the KickArts website to reflect my involvement.
Hello there,
Welcome to my website and blog. As you would have gleaned from my "About" page I have a wide range of experience in the visual arts and educaion sectors. I  aim to provide specialised courses, workshops and programs which provide both skills training from the Visual Arts and Crafts Training Package CUV03 as well as non-assessable courses aimed at personal creative development for non-vocational participants.
I have learnt much in my career as an artist and educator over the years from a variety of situations including both fomal study and "on the job" experience. I believe strongly in the efficacy of creative pursuit, and ascribe to the idea that whilst we gain much knowledge from practical experience, it is equally important to engage with the world of philosophy, and challenge ourselves intellectually and theoretically. Engagement with creative pursuits does impact upon our cognitive development and helps us develop higher thinking processes such as comprehension, analyses, synthesis, discernment and importantly our ability to communicate.
These skills are integral the visual arts and can be important in building self esteem and self worth. Many corporations and businesses are increasingly seeing the importance of these human capabilities and without them, true innovation in business and community is not possible.
We are all different in many ways with different aspirations, backgrounds, and personality characteristics, and we all have unique experiences and stories. Art is the conduit which connects us when engaging with the cultural diversity of people, and teaching art should be about not only the industry specific skills which are governed by vocational training but the wider world of ideas, aspirations, and humanity. 
Please contact me if you think that I can assist you on your journey.
4.10.2011 
/